West Side Market
From Roost Cleveland
| | |
| --- | --- |
| By Car | 4 Min |
| By Walk | 30 min |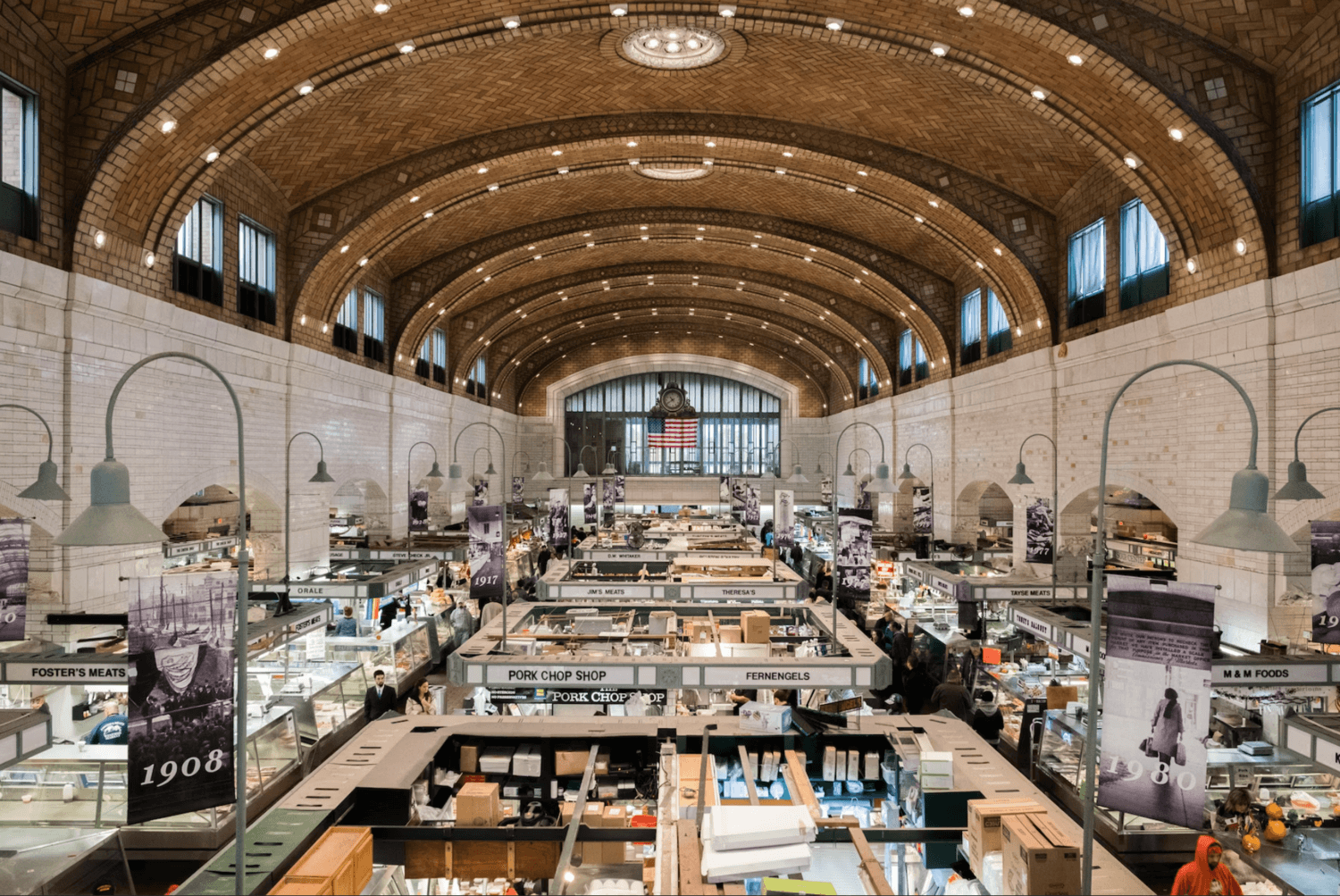 The West Side Market is located just minutes from downtown in the historic Ohio City neighborhood. A grand structure houses the market, measuring 241 x 124 feet. The vaulted ceiling measures 44 feet and is covered in beautiful Guastavino tile. It also has a clock tower that prominently stands 137 feet tall. Shop in comfort thanks to the most recent renovation in 2004 that turned the arcade portion of the market into an enclosed and heated space.
Vendors
There are over 100 vendors at the West Side Market. You can find an impressive variety of items from cultures worldwide. Browse booths with fresh seafood, beef, poultry, baked goods, and produce. Purchase artisan cheeses, herbs, candy, nuts, and fresh-cut flowers. There are also several ready-to-eat options. In addition, you'll find Cambodian, Mexican, gyros, bratwurst, and a juice bar.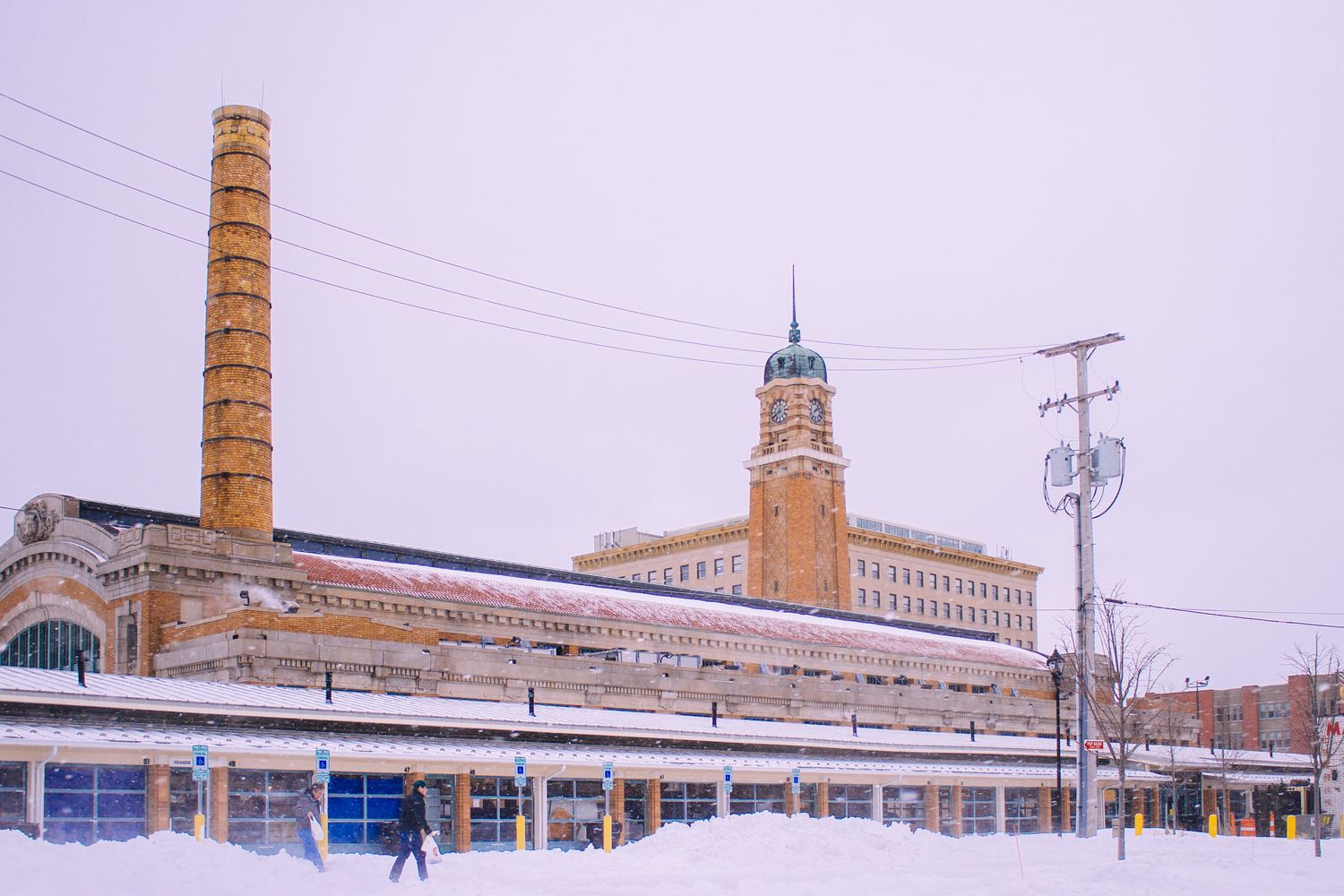 Market History
The history of this market runs deep, as it is Cleveland's oldest publicly owned market. First opening in 1912, it replaced the original Pearl Street Market that dated back to 1840. The market has expanded over the years, requiring the building that houses it to also be expanded and improved. Bring the taste of international home cuisine home with you by purchasing specialty olive oils, exotic produce, cured meats, freshly baked bread, or herbs.
How to Visit
The West Side Market is open year-round. You can visit on Monday, Wednesday, and Friday between 8 am and 5 pm. On Saturday, the market is open from 7 am to 5 pm. On Sunday, the market is open from 10 am to 4 pm. It is closed on Tuesdays and Thursdays. Paid parking is available in the lot directly behind the market. There are also local tour companies that offer tours of the market. Delight your taste buds with the delectable offerings of the West Side Market.
Discover the Best Things to Do in Cleveland, Ohio, for an Unforgettable Experience! Seeking excitement and remarkable sights? Cleveland offers captivating activities that will truly amaze you. Explore lively streets, savor delicious cuisine, and immerse yourself in the city's diverse history and culture. Don't miss out on the free things to do in Cleveland, for some cost saving experiences!
Quick FAQ
ROOST Midtown
111 S. 15 th St
Philadelphia, PA 19102
267-737-9000

ROOST Rittenhouse
1831 Chestnut St
Philadelphia, PA 19103
267-469-0349

ROOST East Market
1199 Ludlow St
Philadelphia, PA 19107
267-703-4040

ROOST Detroit
1265 Washington Boulevard
Detroit, MI 48226
313-547-6165

ROOST Cleveland
105 Prospect Ave E
Cleveland, OH 44115
216-877-0500

ROOST Tampa
1050 Water St
Tampa, FL 33602
813-945-4890

ROOST Baltimore
2460 Terrapin Wy
Baltimore, MD 21230
410-469-8315
Check In: 04:00 PM
Check Out: 11:00 AM
We do our best to get you into your room upon arrival, but we cannot guarantee you will be able to check in before 04:00 PM. We want your room to be perfect for you so our housekeeping team needs time to make that happen.
Please ask the property front desk for more details on late check out. We can sometimes give an extra hour or two but cannot guarantee it. Anything beyond 01:00 PM will incur additional charges.
We require a commitment for the full length of stay based on the booked arrival and departure dates. In the event that you depart early, we do not often have enough time to rebook the room so we do typically charge. Please discuss with our front desk in the event that your travel plans change during your trip.
Minimum age required is 18 with valid ID.
Yes! We love pets! In the interest of the security and safety of all our guests, we do not allow pets above 40 lbs. We only allow dogs and cats. We charge a cleaning fee up to $350 pet for all pets (depending on length of stay).
Yes, ROOST includes WiFi for all. No additional charge or sign up required.
All apartments include: complimentary wireless internet, landline telephones with free local calls, televisions equipped with Apple TV, Bluetooth speaker.